But don't expect the word "felony" to come up in Wednesday's Senate Banking Hearing with their CEOs.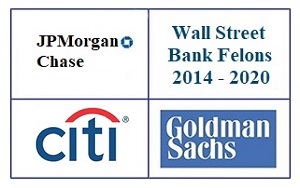 On Wednesday, the Senate Banking Committee will haul each of the CEOs of the largest U.S. banks on Wall Street to a hearing. Three of those banks have been charged with, and admitted to, egregious felonies. But we will be shocked if any Senator dares to inquire about these unprecedented felony counts.
Until 2014, no major Wall Street bank that held federally insured deposits had ever been charged with a felony in a century. That all changed on January 7, 2014 when the U.S. Department of Justice charged JPMorgan Chase with two criminal felony counts for its role in the Bernie Madoff Ponzi scheme. The bank had managed the business account for Madoff for decades and had even written to U.K. regulators that it suspected Madoff of running a fraudulent operation. It failed to share any such concerns with U.S. regulators. JPMorgan Chase admitted to the charges and received a deferred prosecution agreement.
Less than one and a half years later, on May 20, 2015, the unthinkable occurred. JPMorgan Chase, the largest federally-insured depository bank in the United States, was charged with another felony count, bringing the new total to three felonies to which it had admitted guilt. This time the charge was being part of a bank cartel that was rigging foreign exchange markets. Another U.S. bank, Citigroup's Citicorp was also charged with a felony count in the matter. Both JPMorgan Chase and Citicorp pleaded guilty to the charges and received a deferred prosecution agreement.
The concept behind deferred prosecution agreements is that the bank pays a large fine, is humiliated in public, faces shareholder wrath, thus forcing the Board of Directors to sack its CEO and thus ending the bank's life of crime. This has proven to be a quaint concept when it comes to Wall Street's mega banks.
Three felony counts into its life of crime and the Board of Directors of JPMorgan Chase still hadn't sacked the Chairman and CEO, Jamie Dimon, who had been at the helm of the bank during all three counts. Then, in what can only be described as something out of an Orwellian dystopia, on September 29, 2020, the Justice Department leveled two more felony counts against JPMorgan Chase, to which it once again admitted guilt and received yet another deferred prosecution agreement.
The two felony counts in 2020 were for wire fraud for manipulating (spoofing) trading in the precious metals and U.S. Treasury markets. The Justice Department brought only two felony counts despite the fact that its own charging document indicated that JPMorgan traders engaged in "tens of thousands of instances of unlawful trading in gold, silver, platinum, and palladium…as well as thousands of instances of unlawful trading in U.S. Treasury futures contracts and in U.S. Treasury notes and bonds…." This suggests Americans need to reform the U.S. Department of Justice as well as JPMorgan Chase.
Typically, these kind of charges by the Justice Department arrive with great fanfare and a major press conference. But the legal team of JPMorgan Chase apparently used their clout and no press conference was held by the Justice Department as JPMorgan Chase racked up its fourth and fifth felony counts in the span of seven years – all under the tenure of Jamie Dimon…