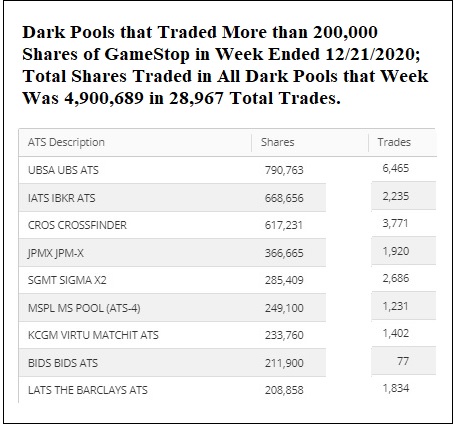 What's being ignored in all the current hoopla is that the largest federally-insured banks in this country, that now double as trading casinos and Dark Pools thanks to the repeal of the Glass-Steagall Act, have every incentive to suck in the small investor at the top of a market bubble in order to create an escape route for themselves.
Dark Pools owned by the biggest names on Wall Street – such as Goldman Sachs' Sigma X2, JPMorgan Chase's JPM-X, UBS' UBSA, Morgan Stanley's MSPL, and Credit Suisse's Crossfinder — have been making tens of thousands of trades in the shares of GameStop on an ongoing weekly basis. FINRA, Wall Street's highly compromised self-regulator, reports the Dark Pool data on a stale basis, two to three weeks after the trading has occurred. It is then lumped together for the whole week, rendering it useless in terms of monitoring price manipulation. The chart above is taken from the latest available information from FINRA. (See our previous reporting on Dark Pools in Related Articles below.)
It's a fair guess that you haven't heard a peep about Dark Pools on the evening news. The fact that you haven't is a perfect commentary on why mainstream media is failing the American people when it comes to exposing Wall Street's serial looting of the little guy.
But when a bunch of quixotic posters on a Reddit message board can be parlayed into the exciting narrative of a Robinhood band taking on the evil hedge funds, it goes viral on the evening news – sucking in hundreds of thousands more unsophisticated retail investors.
It's important to remember who has been pumping the GameStop/Reddit story on CNBC. That would be none other than Andrew Ross Sorkin, who created a completely false narrative about who and what caused the crash of 2008 – appearing to be intentionally protecting the reputations of the mega banks on Wall Street. Sorkin's reporting on the 2008 crash looked even more suspect when we repeatedly asked the New York Times to correct his outrageously incorrect reporting and they failed to change one word.
What's being ignored in all the current hoopla is that the largest federally-insured banks in this country, that now double as trading casinos and Dark Pools thanks to the repeal of the Glass-Steagall Act, have every incentive to suck in the small investor at the top of a market bubble in order to create an escape route for themselves. It's called "distribution" and it occurs, by hook or crook, at the top of every market bubble…