Leaks about money laundering, a resurgent Pandemic, China risks, exposure to Turkey's financial crisis, all in a negative-interest-rate environment that is toxic for banks.
The Stoxx 600 Banks index, which covers major European banks, slumped 5.7% on Monday, to close at 81.1, just a smidgen above the multi-decade low, of 79, set in March. The last time before March that the index was below today's level was in February 1988, during the sell-off that followed Black Monday in October 1987, when it also slumped as low as 79. The index has collapsed by 85% since its peak in May 2007, after having quadrupled over the preceding 12 years. Here are the wondrous European bank stocks going back to 2007: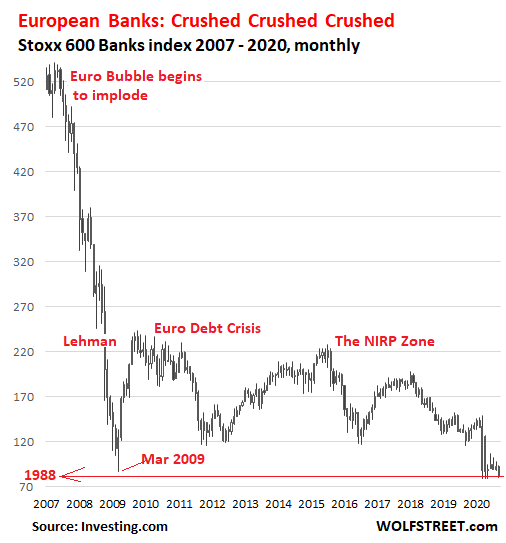 Not even the promise of more industry consolidation, facilitated by shotgun mergers of big, struggling banks with smaller struggling banks, has stemmed the slide of Europe's banking shares. Three weeks ago, Spain's third largest lender, CaixaBank, announced plans to buy majority state-owned Bankia, with money largely provided by the State, to form what will be Spain's largest domestic bank. Spain's MSCI rose only slightly in response and is now lower than it was.
Today, it wasn't just banking stocks that had a rough day. European stocks overall were down by 3.9%, as concerns grow over a second wave of the coronavirus. But banks were particularly hard hit…