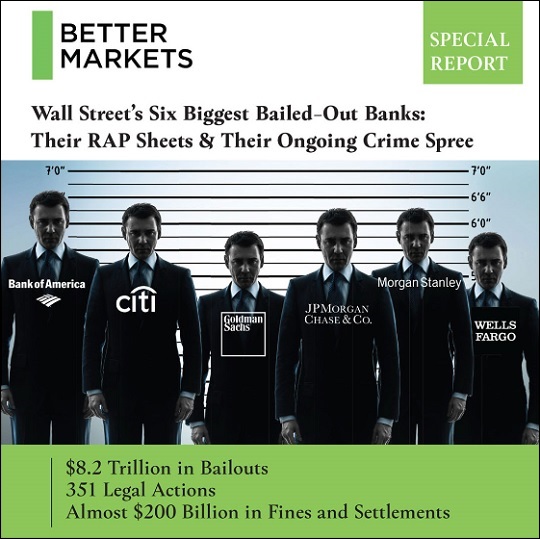 Corporate-owned mainstream media, that is dependent on financing from these same banks, prefers the Fed's alternative version of reality.
There are two opposing narratives living side by side in the United States: independent journalists and researchers have documented how the behemoth banks on Wall Street are as crooked as ever while the Federal Reserve Chairman, Jerome Powell, repeatedly tells Congress and the press that these banks are a "source of strength" in this economic crisis. (Never mind that the Fed is flooding these banks with trillions of dollars in cumulative loans at less than 1 percent interest.)
Corporate-owned mainstream media, that is dependent on financing from these same banks, prefers the Fed's alternative version of reality.
Wall Street On Parade has repeatedly written about critical reports showing serial corruption at these banks that have been censored by those Pulitzer prize winning media outlets. Yesterday provided another example: the New York Times refused to cover the International Consortium of Investigative Journalists' stunning report on how five of the biggest banks on Wall Street have continued to launder dirty money for fugitives and suspected criminals. The Wall Street Journal, whose name suggests that perhaps its focus should be Wall Street, failed to put the story on its front page, opting instead to bury it under an innocuous headline about HSBC's stock hitting a new low.
The same news blackout occurred last year when the public interest group, Better Markets, published an in-depth report on "Wall Street's Six Biggest Bailed-Out Banks: Their RAP Sheets & Their Ongoing Crime Spree." Three days after the report came out, major news outlets were still refusing to cover the report. We wrote this in a report three days after the study was released:
"We checked the Wall Street Journal, the New York Times, Financial Times, Bloomberg News, Reuters, CNBC, and CNN. We could find no mention of the Better Markets report. (We checked again this morning. There is still a news blackout.)
"We know that the Wall Street Journal was aware of the report because Lalita Clozel, a banking regulation reporter for the Wall Street Journal, Tweeted on April 10 that Democrats in the House Financial Services Committee room were handing out the report to journalists while the Chair of the Committee, Congresswoman Maxine Waters, was introducing the bank CEOs.

"There are four words in this outstanding report from Better Markets that rendered it unpalatable to corporate business media: 'rap sheets' and 'criminal enterprise.' We searched Bloomberg News, the Wall Street Journal and the New York Times back to 2004 to see if at any time they had used the words 'rap sheet' to describe the unprecedented serial crime sprees of these Wall Street mega banks. They had not."
Read our full report on the censorship of the Better Markets study: Research Study on Ongoing Crime Spree by Wall Street Mega Banks Gets News Blackout: Here's Why
We are not the only outlet to have noticed the censorship of Wall Street bank crimes. When the story of Wall Street banks rigging the interest rate benchmark known as "Libor" broke, Media Matters ran this headline: ABC, NBC Evening News Shows Ignore Massive Banking Scandal For More Than A Month.
And it's not just groundbreaking studies that corporate media is ignoring. Corporate media is also flagrantly ignoring crucial hearings in Congress with important witnesses…