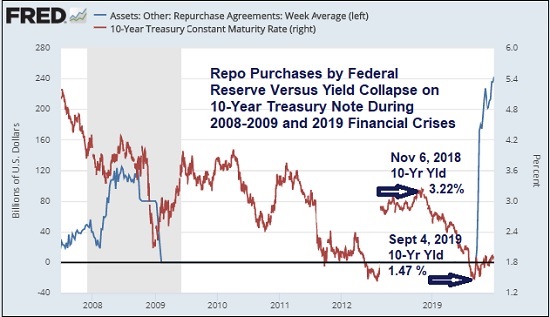 If a reputable polling outfit were to ask Americans what caused the current financial crisis on Wall Street, they would say the coronavirus COVID-19 pandemic. If Americans were asked in the same poll when the financial crisis on Wall Street started, they would tie it to outbreaks of the virus in the U.S. this year.
But as the timeline below and the chart above clearly substantiate, the financial crisis on Wall Street began in earnest on September 17, 2019, almost four months before the first death from coronavirus anywhere in the world was reported in China on January 11, 2020 and five months before the first death in the U.S. was reported on February 29, 2020, having occurred one day earlier on February 28. (See the New York Times coronavirus timetable here.)
This big disconnect between what people believe about the current Wall Street crisis and the easily documented facts show just how effective Wall Street's spin doctors and protection racket have become at promulgating a false narrative through mainstream media outlets. (To help get the truth out to the American people, Wall Street On Parade has chronicled each milestone in the crisis in an investigative series that now includes more than seven dozen articles.)
The reason that it's critically important for Americans to understand that Wall Street is getting another massive bailout from the Fed for a crisis it started before COVID-19 was on our shores is because the structure of Wall Street, with trading casinos allowed to own our largest commercial banks, is far more deadly to the future of America than COVID-19.
In addition to the timeline listed below, pay close attention to the chart above. We show how the Fed jumped into the repo loan market (blue line) during the 2007 to 2010 Wall Street financial crisis versus the collapse in the 10-year Treasury Note. During that period, the Fed's emergency repo loans reached a peak of $126 billion just before the bankruptcy filing of Lehman Brothers on September 15, 2008. Last year, the Fed intervened in the repo loan market on September 17 for the first time since the financial crash of 2007 to 2010 (and five months before the first reported death in the U.S. from COVID-19). The Fed's emergency repo loans outstanding last year hit a peak of $236.6 billion on December 18, 2019 — $100 billion more than during the worst financial crisis since the Great Depression…