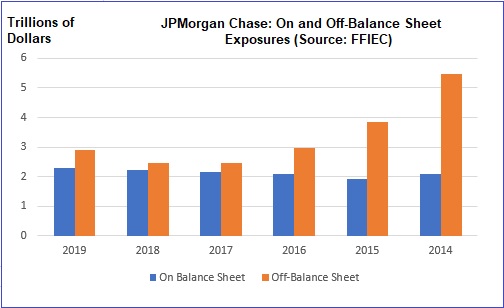 Off-balance-sheet derivatives are arguably more dangerous today than they were in 2008 because some of the counterparties to Wall Street's derivatives are more fragile today than they were in 2008.
According to the Uniform Bank Performance Report for December 31, 2019 at the Federal Financial Institutions Examination Council (FFIEC), JPMorgan Chase, whose Chairman and CEO, Jamie Dimon, has perpetually bragged about its "fortress balance sheet," has $2.3 trillion in exposure on its balance sheet and $2.9 trillion in off-balance sheet exposure.
The off-balance sheet exposure includes things like credit card lines of credit that have been issued but not tapped as of December 31, 2019; corporate standby letters of credits that have been issued but not yet tapped; securitized assets that have been sold with recourse back to JPMorgan Chase's balance sheet; real estate loans committed but not yet funded; and a staggering $1.2 trillion in credit derivatives – the same instruments that brought on an FBI probe and congressional investigations of the bank in 2012 and cost the bank over $1 billion in fines for what became infamously known as the London Whale scandal.
On May 10, 2012, Jamie Dimon testified before the House Financial Services Committee regarding its London Whale scandal, where traders in its London office had gambled in credit derivatives with funds from its federally-insured bank and lost $6.2 billion. During that hearing, Dimon said this about off-balance sheet activities at his bank:
"Remember, we have higher capital standards, higher liquidity standards, far more rules. Most banks are stronger. There's far more — boards are more engaged, there's management committees that are engaged. There's no off-balance sheet vehicles. There's no more subprime mortgages."
The truth is that off-balance sheet derivatives, despite blowing up the U.S. financial system, the U.S. economy, and the U.S. housing and job markets in 2008 in the greatest economic catastrophe since the Great Depression, have never been reformed by Congress or federal regulators. They are, in fact, more dangerous today than they were in 2008 because some of the counterparties to Wall Street's derivatives are more fragile today than they were in 2008…