Fed's assets spike to high heaven to bail out the imploded Everything Bubble it had worked so hard to inflate over the past decade.
Total assets on the Fed's weekly balance sheet, released this afternoon, spiked by $586 billion in one week, to $5.25 trillion. This doesn't even include yet the bulk of the mortgage-backed securities (MBS) the Fed bought over the past two weeks because the Fed books them when its trades settle, and MBS trades take a while to settle. So they will show up later.
Over the past two weeks, total assets have ballooned by $942 billion – again not including the bulk of the MBS it bought during that time, which will be booked when they settle. Money creation at its finest: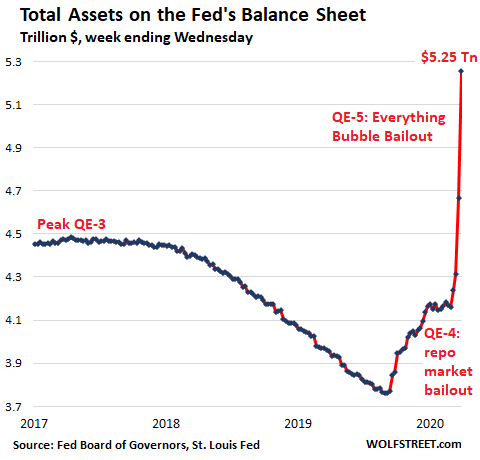 If the Fed had sent that $942 billion it created over the past two weeks to the 130 million households in the US, each household would have received $7,250. But that didn't happen. That was helicopter money for Wall Street.
Since mid-September when the Fed started bailing out the repo market that had blown out, total assets on the Fed's balance sheet soared by $1.41 trillion. If the Fed had sent that $1.41 trillion to the 130 million households in the US, each household would have received $10,840. But that didn't happen either. It was helicopter money for Wall Street…