Santander Consumer USA is on the forefront of souring subprime-auto-loan backed securities.
Santander Consumer USA, one of the largest subprime auto lenders and the largest securitizer of subprime auto loans, is not alone. But it's on the forefront. It had $26.3 billion of subprime auto loans as of June 30 that it either owned and carried on its books or that it had packaged into subprime-auto-loan backed securities and sold to investors; in terms of the loans that it collects payments on, 14.5% of the borrowers were delinquent, according to S&P Global Ratings, cited by Bloomberg.
In the industry overall, subprime auto loans that have been packaged into asset-backed securities (ABS) are experiencing the highest delinquency rates in two decades, according to Fitch, which rates these securities. The 60-day delinquency rate surged to 5.93% in August, substantially higher than during the peak of the Financial Crisis at 5.04% in January 2009 (orange line, chart via Fitch):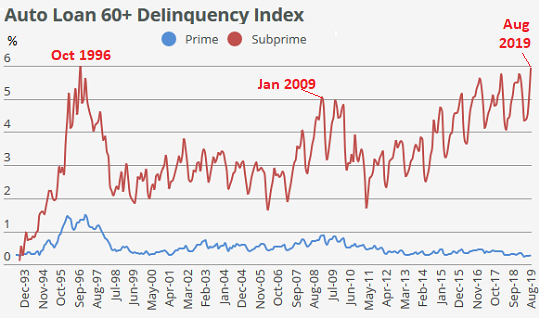 But "prime" auto loans are holding up very well (blue line in the chart above): Their 60-day delinquency rate is hovering around a historically low 0.28%.
Santander's loans include a surprising number that defaulted within the first few months, according to Moody's Investors Service.  These early-payment defaults (EPDs) are a hallmark of loosey-goosey underwriting standards that accomplish three things…