The bank with the €43.5 trillion derivative portfolio is now one step closer to nationalization.
Just last week, Jeff Gundlach – in his latest DoubleLine investor call – cracked jokes that Deutsche Bank's imploding stock which has been hitting fresh all time lows virtually every day, has a major support area at €0.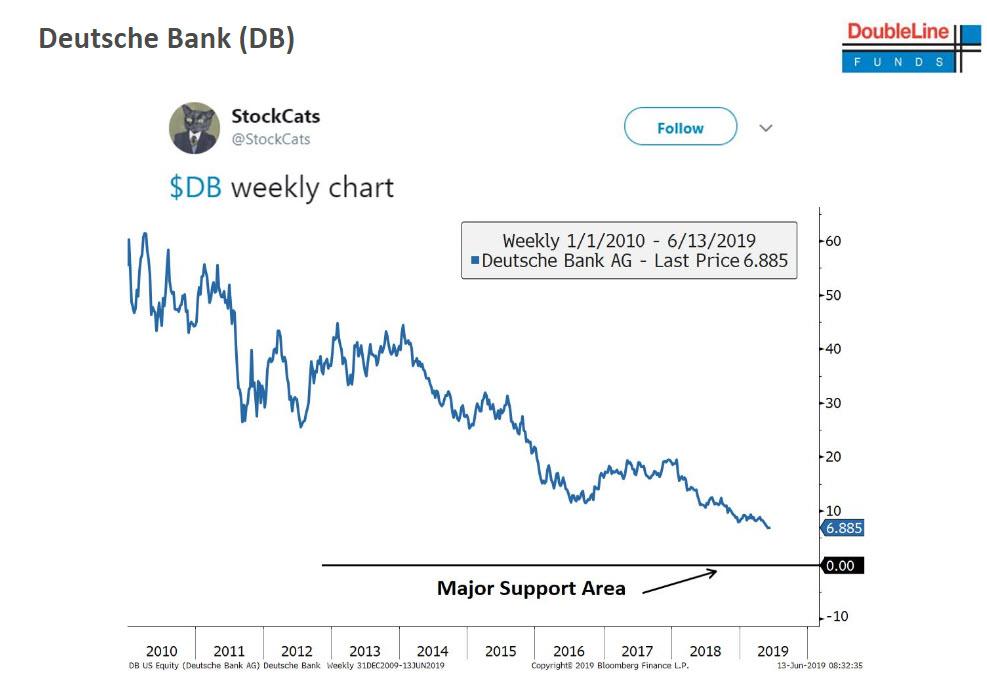 Once again, he was on to something because now, just a few days later, the FT reports that the bank which was this close to nationalization in 2016, and failed to consummate a merger with that "other" German bank, Commerzbank, is preparing to roll out Plan Z: amid a deep overhaul of its trading operations (read: mass terminations), the biggest German lender is set to roll out a "bad bank" holding some €50 billion in toxic assets, in a plan that was quite popular in the depths of the global financial crisis.
Meanwhile, as part of CEO Christian Sewing's ongoing restructuring of DB away from investment bank, "the bank's equity and rates trading businesses oustide continental Europe will be severely shrunk or closed entirely as part of the revamp", while managers are also set to unveil a new focus on transaction banking and private wealth management.
Of course, it will hardly come as a surprise that the German bank best known for housing €43.5 trillion in gross derivatives notional(something we first pointed out way back in 2013)…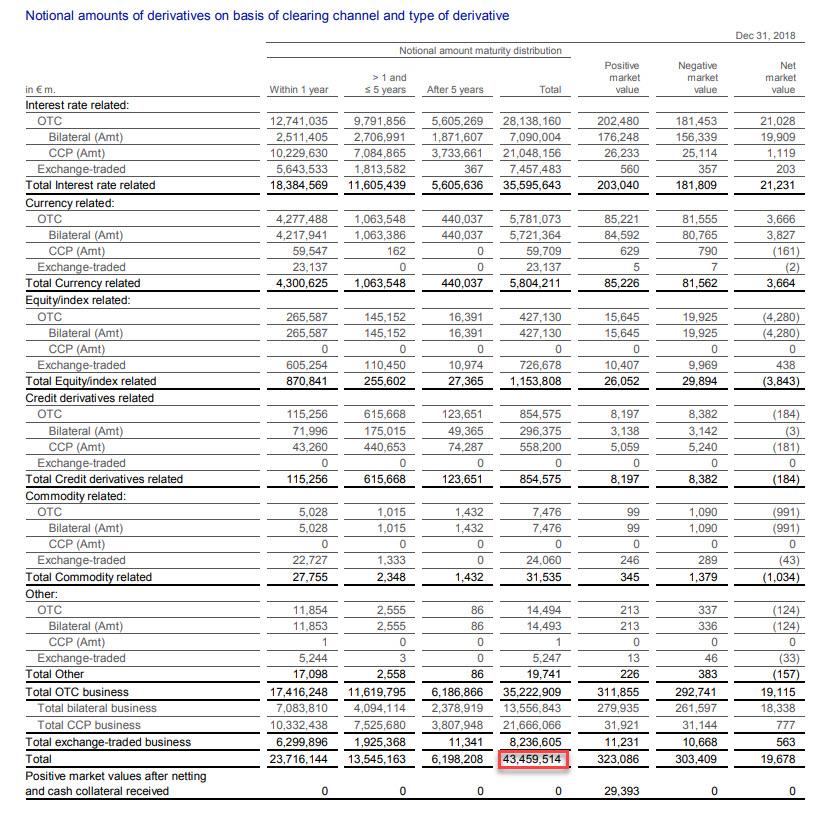 … will stuff its "bad bank", known internally also as "the non-core asset unit", with – drumroll – long-dated derivatives.
According to the FT, the CEO is likely to announce the changes with the bank's half-year results in late-July.
While the final scale of the bad bank has not been decided and the number "continues to oscillate", executives are reportedly discussing at least €30bn of risk-weighted assets with an eventual size of €40bn to €50bn most likely, at the high end almost exactly 4 times greater than DB's current market cap, and accounting for 14% of Deutsche's balance sheet.
"The cuts need to be radical," one senior banker told the FT. "It makes sense for us to put all these long-term, nil-revenue assets in a non-core unit." The person added: "We now have the capital and liquidity freedom to do what needs to be done; we couldn't have acted decisively much sooner because we needed to have built up those buffers."
"Nil-revenue" but far more than nil expenses.
Recall that last April, IFRE reported that then CEO John Cryan "came clean" about a €60 billion portfolio of years-old trades that were costing the German lender about €500 million a year. Never previously disclosed, the revelation stunned analysts. Deutsche had done several clean-ups since the crisis – including one by Cryan just 17 months earlier – but had never mentioned the trades, some of which were over a decade old.
It got worse: although a relatively small piece of its balance sheet, which at the time stood at €1.6 trillion, the positions were consuming between €4bn and €5bn of equity – equivalent to 10% of the bank's entire core equity Tier 1 capital base, and more than half the amount shareholders were being asked to cough up…