It was a doozie, but it shouldn't have come as a surprise. Here's why.
Production output in the UK dropped by 2.7% in April from March, and GDP fell by 0.4% in just one month, according to the latest figures by the Office of National Statistics. The manufacturing sector provided the largest contribution to the downturn, with the manufacturing index plunging 3.9% in April, from March, its biggest monthly fall since June 2002. In April, after three months of sharp increases, it had almost finally reached its pre-Financial-Crisis peak. The plunge in April took the index down 0.8% for the 12-month period, and took it back to 2017 levels.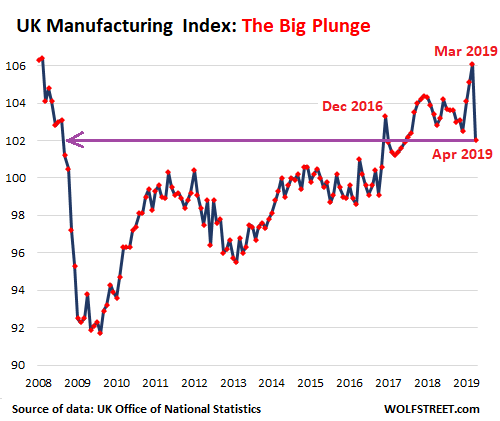 The data was seized upon by pro-remain media outlets as evidence of the crushing impact of Brexit on the UK economy. The Guardian called it a "Brexit hangover" while a headline in The Independent shrieked that a "Brexit paralysis" has set in after the economy "shrinks by four times as much as predicted."
But it was always inevitable that April, the month after the official, and now come-and-gone, Brexit date of March 29 would be a bad month for the UK economy. Companies had stockpiled record amounts of inventories for months on end ahead of the Brexit date, which would naturally cause production and business and the economy in general to increase before Brexit and plunge for about a month or two after.
The April figures, if taken in isolation, may seem semi-cataclysmic and perhaps even deserving of the doom-and-gloom laden vernacular employed by certain media, but the three-month moving average shows a different story: A big boost from late 2018 through March, and then a dip in April that unwound only half of the prior month's gain…