What to do with those messy banks ignites further tensions.
The Italia All Share Banks Index dropped 18% so far in May, almost double the 10% fall registered by the Euro Stoxx 600 banking index during the same period: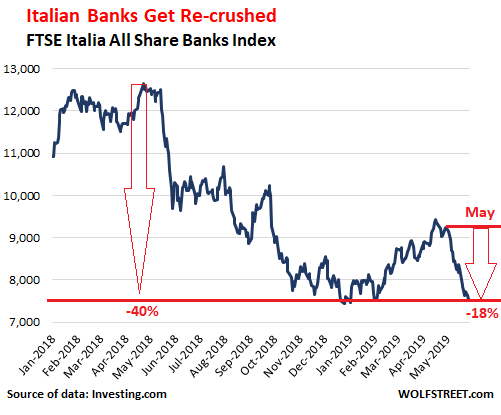 Italy's biggest bank, Unicredit, saw its shares fall through the €10 level for the third time this year. The stock has lost 20% of its value in May, and is close to its all-time low, registered in July 2016 when Italy's banking system was being shaken and stirred by the slow-motion collapse of then-third largest lender Monte dei Paschi di Siena (MPS). Unicredit's shares are down 97% since the Italian banking-hype peak in May 2007.
MPS, now 68% state owned following a controversial taxpayer funded bailout in 2017, is already reverting to type. In the first quarter of this year its net profits slumped 85% to €27.9 million euros as shrinking revenues and larger write-downs on problem loans due to Italy's weak economy took their toll. MPS's shares, now at €1.07, are down 36% year to date and 78% since the bank's shares were re-floated in October 2017 at the price of €4.76 a piece.
Ever since pouring €8 billion of public funds into MPS to stave off its collapse, the government's "investment" has done nothing but lose value. Every now and then, a passing reference is made to the possibility of re-privatizing the bank, but in reality there are no interested buyers, partly because MPS' balance sheet, still infested with non-performing loans (NPLs), keeps getting messier as the Italian economy stagnates, but also because there are no banks in Italy healthy enough to take on such a burden…