February was bad. Housing market weakness is now spreading out from London.
London home prices in February took their biggest one-off hit since the dark days of the last crisis, according to data published Thursday by the UK's Office of National Statistics. The average price of a residential property in London tumbled 2% in February from January, the sharpest monthly drop since November 2008, when the City was grappling with the fallout from the Lehman Brothers bankruptcy. For the 12-month period, the average price dropped 3.8%, the sharpest year-over-year fall since August 2009, during the Global Financial Crisis. The average home in London is now worth £459,800 ($600,000), down 5.9% from the peak in July 2017: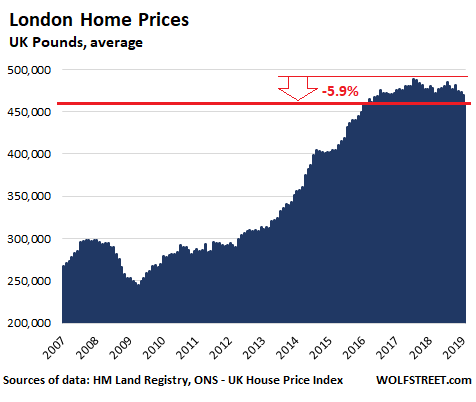 But it's still more than double the median UK home price (£225,000). In other words, while prices may have moderated somewhat they're still well beyond the reach of average Londoners. Here are some more standouts from the ONS report:
The slowdown is spreading out from London. Home prices in the south east of England recorded an annual decline (-1.8%) for the first time since 2011. Prices also fell in the North East and remained virtually unchanged in Yorkshire and the Humber.
Home price annual growth is slowing in England; prices tick down in Scotland. Home price growth has been gradually slowing ever since the summer of 2016, when a majority of British voters voted to leave the EU. Over the year to February 2019 the average home price in England rose by just 0.4% , down from 1.4% in January 2019. In Scotland prices slipped by 0.2%, down from a year-on-year rise of 2.4% in the previous month…