Laying off workers and closing plants as exports and production plunge — Jaguar Land Rover is the biggie.
Car production in the UK slumped by 18.2% in January compared to January 2018, after it had already plunged 19.6% in November and 22.4% in December, as a result of sharply declining demand in key export markets such as Europe and China.
January was the eighth consecutive month of declining car production in the UK, according to the industry group, the Society of Motor Manufacturers and Traders (SMMT). In 2018 as a whole, production fell 9.1% to 1.52 million units, a five-year low for the sector. The chart (courtesy of SMMT) depicts rolling-12-month car production totals: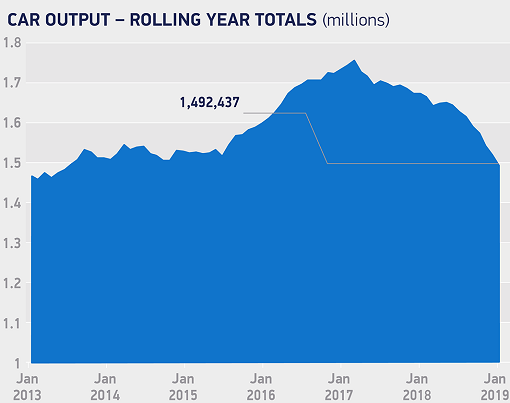 Rolling-year total production hit a post-crisis peak of around 1.75 million units in mid-2016, just after the Brexit referendum. Since then, rolling year totals have fallen 12% to 1.49 million last month, down by over 250,000 units from the 2016 high. "Regulatory changes and ongoing uncertainty over future diesel policy and taxation were exacerbated by declining consumer and business confidence," the SMMT said.
The manufacturers most severely impacted, in terms of their production declines in 2018 compared to 2017, were:
Jaguar Land Rover, UK's largest car manufacturer: -15.7%
Vauxhall: -15.8%
Nissan: -10.7%
Toyota: -10.4%.
Just over one in five of the 127,649 cars that came off the production line this January went to the home market, 4.8% fewer than last year. But it was in the export market, accounting for nearly four out of five cars produced in the UK, where the biggest decline was registered. Exports dropped 21% in January, from 119,000 to 97,000, the seventh monthly fall in a row. As SMMT reports, weakening demand in key Asian and European markets drove much of the decline, with exports to the EU27 countries down by 20%, and with exports to China collapsing by 72%…