But (well-connected?) investors started smelling a rat 10 months before the first disclosure.
Shares of the UK's fastest growing high street lender, Metro Bank, are in free fall. They tumbled 16% on Tuesday, 25% on Wednesday and 6.86% on Thursday, to come to rest at a price of 889 pence, the lowest since the London-based bank went public in 2016. In the last five weeks the lender has lost 60% of its market cap and is now worth just £866 million, down from £4 billion a year ago.
The crisis began in earnest on January 22 when Metro's shares crashed almost 40% — the worst one-day fall suffered by any British lender since the financial crisis — following an announcement by the bank's management that it had incorrectly classified a huge chunk of commercial property loans and loans to commercial buy-to-rent operators that should have been among its "risk-weighted assets". The "error" left a gaping £900 million hole on Metro's balance sheet.
On Tuesday this week, things got even worse when the bank revealed that the Prudential Regulation Authority (PRA), the institution that had first flagged up Metro Bank's accountancy error, and the Financial Conduct Authority (FCA) are investigating the circumstances behind the error. The bank also announced plans for a £350 million rights issue, after raising £303 million from investors last July. But investors — led perhaps by well-connected investors — have been smelling a rat since March 2018. By the time the initial disclosure whacked the shares on January 22, 2019, they'd already dropped 45%. Now they're down 77% from March 2018: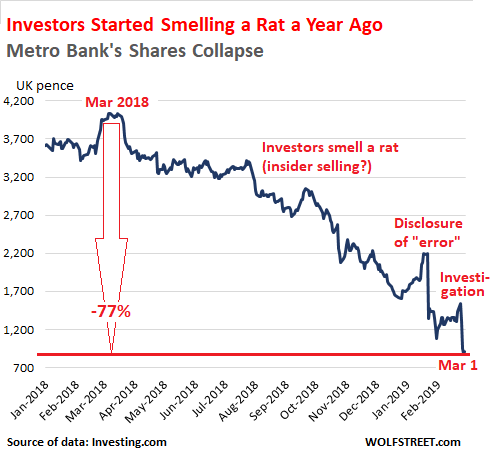 Metro's tribulations are a timely reminder of how important a force trust can be in the financial markets, particularly when it comes to banks…