GM's Mexico vehicles now are 23% of its US sales. And the Japanese have massively discovered Mexico's cheap labor.
The total number of new vehicles exported from Mexico to the US in January rose 9.1% from a year ago to 191,072 vehicles, according to figures compiled by the vehicle manufacturers association AIMA and released by Mexico's National Institute of Statistics and Geography (INEGI). In the year 2018, total new vehicle exports from Mexico to the US leaped by 9.9% to 2.57 million vehicles, after having already jumped by 9.4% in 2017.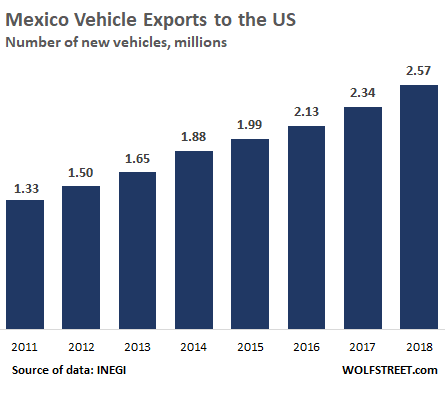 Since 2011, vehicle exports to the US have surged by 93%. During that period the number of vehicles exported to the U.S. from Mexico has gone up every single year, sometimes by double-figure percentages, including 13.9% in 2014.
During the worst year of this period, 2015, the total number of vehicles sent from Mexico to the U.S. still grew by a 6.3%. Since then, the annual percentage rises have gradually recovered, hitting 7.1% in 2016, 9.4% in 2017 and 9.9% in 2018: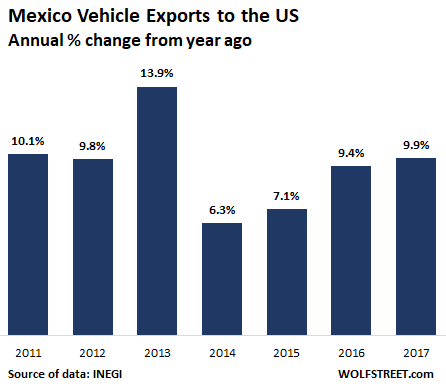 There are two mains reasons why Mexican vehicle exports to the U.S. have almost doubled in the last eight years, from 1.36 million units a year to 2.57 million:
More global car manufacturers have set up shop in Mexico. In 2005, when INEGI began publishing stats on Mexico's vehicle exports, there were just six large vehicle manufacturers (Chrysler, Ford, General Motors, Honda, Nissan and Volkswagen) producing and exporting cars from Mexico. By 2011 that number had risen to eight, after Fiat and Toyota had joined the fold. Today, the total number is 11, following the recent arrival of Audi, Kia and Mazda…