"A development that is surprising during a strong economy and labor market": New York Fed
Serious auto-loan delinquencies – loans that are 90 days or more past due – surged to 4.47% of total auto loan balances in Q4 2018, according to New York Fed data this morning. This put the auto-loan delinquency rate at the highest level since Q1 2012 and just 0.6 percentage points below the peak during the Great Recession in Q1 2011.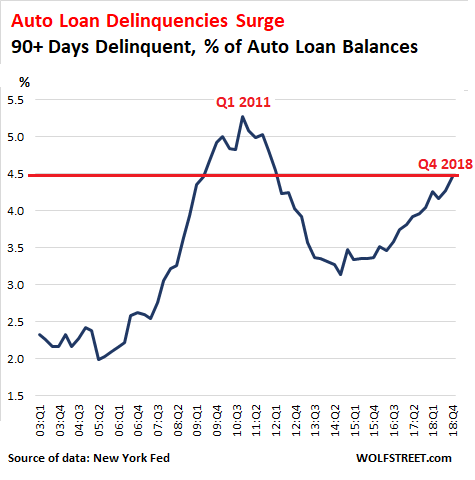 At the end of 2018, there were over 7 million Americans with auto loans that were 90+ days past due, 1 million more than at the end of 2010, at the peak of the overall delinquency rates, according to a separate report by the New York Fed. It added that "the substantial and growing number of distressed borrowers suggests that not all Americans have benefitted from the strong labor market."
The dollars are big. Since the prior peak in Q2 2008, total auto loans and leases outstanding nearly doubled to $1.27 trillion (this is slightly higher than the data reported last week by the Federal Reserve Board of Governors as part of its consumer credit data).
But the number of auto-loan accounts rose only 28% over the decade, from 88 million accounts in Q2 2008 to 113.4 million accounts in Q4 2018, even as the loan balances nearly doubled…