This economic slowdown is not unique to Germany but has been spreading across the EU.
By Wolf Richter of WOLF STREET
OK, this is embarrassing in the land of super-stimulus via the ECB's negative-interest-rate policy and years of QE that were supposed to perform miracles: Production in Germany's industry, which includes construction, dropped 1.9% in November from the prior month (seasonally adjusted), the German statistical agency Destatis reported this morning. This drop is also embarrassing because economists polled by The Wall Street Journal had expected a 0.3% gain.
The agency also downwardly revised October, to a monthly decline of 0.8%. This makes three months in a row of declines. In November, compared to a year earlier (adjusted for inflation and calendar differences, but not for seasonality), the production index dropped an ugly 4.7%: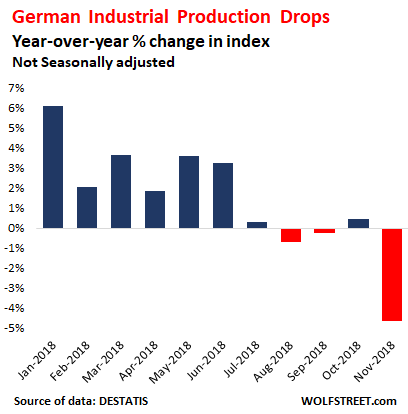 Production was down in all major segments, including energy and construction which are focused on Germany itself, rather than exports.
On a monthly basis, seasonally adjusted:
Industrial Production excluding energy and construction: -1.8%
Production of capital goods -1.8%
Production of intermediate goods: -1.0%
Production of consumer goods: -4.1%
Energy production: -3.1%
Construction: -1.7%
Industrial production is a big power in the German economy. And the trend is not good. Germany's GDP already declined in the third quarter: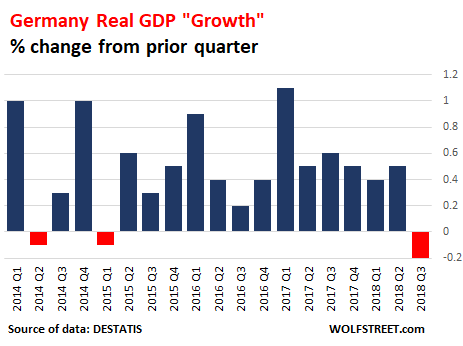 The declines in production in October and November put Germany a step closer to "negative economic growth," as it's called euphemistically, for two quarters in a row. If this occurs, it would be a technical recession…