Rampant unaffordability and a slew of other reasons.
In the fourth quarter of 2018, prices in prime regional housing markets in England and Wales fell by 0.9%, according to global real estate agency Knight Frank. For the whole year, priced dropped by 0.6%, compared to 2017. The rate of annual price growth in the prime country market has averaged less than 1% since mid-2016, compared to almost 3.5% between 2014 and 2016, with peaks as high as 5% in 2014. Something isn't working anymore: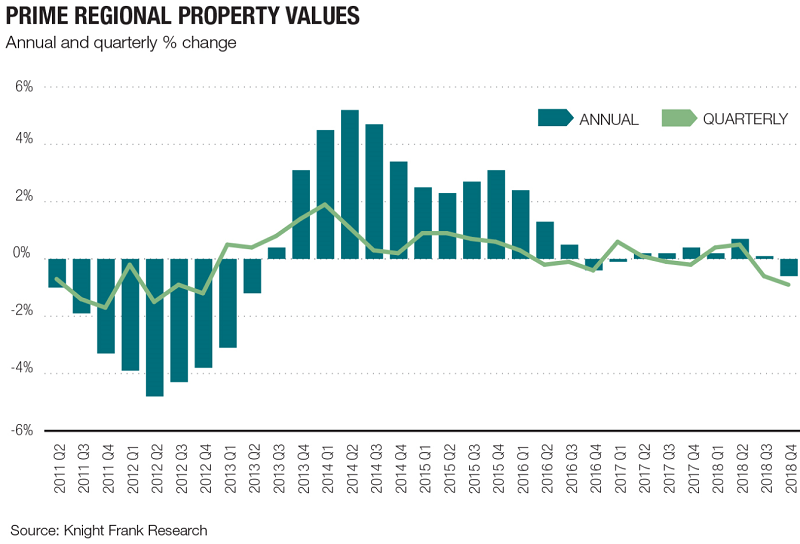 By a different measure, across the UK as a whole, house price inflation slipped to just 0.9% in the year to November, according to a survey by LSL Property Services/Acadata that is based on every residential property transaction in England and Wales. It's the lowest annual rate since 2012 and well below the rate of consumer price inflation. It's also below the rate of wage inflation, which rose to 3.1% in October, its highest level in almost a decade.
There are a plethora of reasons for the current stagnation, chief among them:
Housing unaffordability, particularly in London and other prime markets
Dampened overseas demand
A slew of of new taxes targeting buy-to-let landlords and overseas speculators.
And of course, there's Brexit.
Knight Frank lays much of the blame for stagnating or declining prices on buyer hesitancy, as acute uncertainty over Brexit and the political future of the UK deters buyers from taking the plunge. "Many, according to our sales negotiators, are choosing to sit tight and wait for clarity as the March 2019 deadline for leaving the EU nears," the agency said.
But clarity could be a long time coming…