No one knows what's going to happen.
Vehicle manufacturing in the UK slumped by 19.6% in November compared to the same month of 2017, amidst rising fears about a no-deal Brexit as well as slowing sales in the world's largest automotive market, China. With around 30,000 fewer cars produced, it was the biggest year-on-year fall of any November since the financial crisis of 2008, when output shrank by more than 32%.
The industry has now racked up six consecutive months of falling production, according to the industry group, the Society of Motor Manufacturers and Traders (SMMT). Year-to-date, total car production in the UK is more than 8% lower than it was in the first 11 months of 2017. If anything, the trend appears to be accelerating, with November's 19.6% year-on-year drop in production roughly double the 10% drop registered in October. The chart (courtesy of SMMT) shows rolling-year car production totals — the total amount produced over the twelve-month period: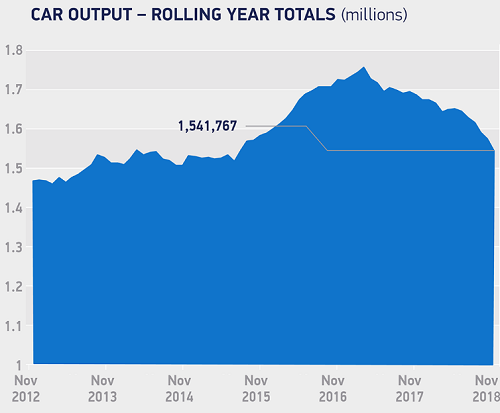 Rolling-year total production reached a post-crisis peak of around 1.75 million in mid-2016, just after the Brexit referendum. Since then, rolling year totals have fallen 12% to 1.54 million last month, down by over 200,000 units from the 2016 high.
Around one out of five of the cars manufactured in the UK are bought by UK consumers. And those consumers are consuming less. Production for the UK market was down 1.9% year-on-year in November and 16.8% in the year to date. That's a total of 55,000 fewer cars being built for British consumers. Also in November UK new-car sales fell by 3%, with diesel models particularly hard hit. Two months earlier, the industry suffered its worst fall in sales of any September since the crisis. As long as sales continue to fall, so too will production for the internal market…