Bottom fishers were taken out the back and shot.
It just doesn't let up with Deutsche Bank — or with European banks in general. A new day, a new scandal, a new historic low in the share price that has been in a death-spiral for over 10 years. Deutsche Bank shares plunged 7% today in Frankfurt, to a new historic low of €7.00, after briefly threatening to close at an ignominious €6.99. Its market cap is now down to just €14 billion. The stock has plunged 56% so far this year: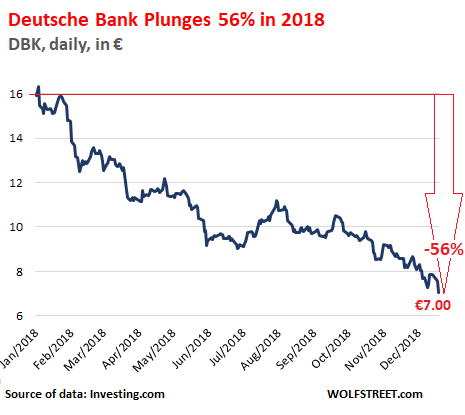 The European Commission — the executive branch of the EU — after nearly three years of investigating this, announced today that is suspects four unnamed banks of colluding to manipulate the vast market for US-dollar-denominated government-backed bonds between 2009 and 2015.
"The European Commission has informed four banks of its preliminary view that they have breached EU antitrust rules by colluding, in periods from 2009 to 2015, to distort competition in secondary market trading in the EEA of supra-sovereign, sovereign and agency (SSA) bonds denominated in US Dollars," the statement said.
he Commission has "concerns" that the four banks "exchanged commercially sensitive information and coordinated on prices…," it said. "These contacts would have taken place mainly through online chatrooms."
Deutsche Bank and Credit Suisse confirmed that they are among the four.
This is just the latest in an endless series of allegations of wrongdoing and costly settlements of such cases. This is in addition to the bank's bulging portfolio, so to speak, of operational and financial problems…