Part of a global trend, as exasperated consumers are squealing, but no country has threatened to do what Mexico proposed.
Mexico's stocks are plummeting, with the S&P/BMV IPC index down 5.8% on Thursday — the worst drop in seven years — and another 2.8% by midday on Friday. The dollar-denominated ETF, iShares MSCI Mexico [EWW], plunged 11% over the past three days and is down 22% since August 8: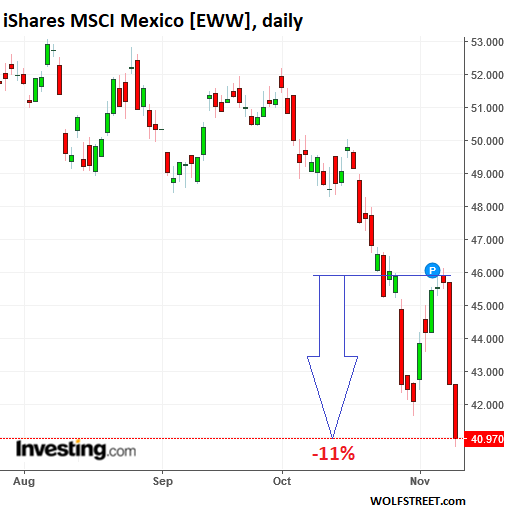 What happened? Mexican stocks, which had been caught up in the sell-off in October and the cancellation of the mega-airport and corruption project at the end of October, bounced a little in November, but then took another hit on Thursday when a senior Mexican senator from the president-elect's party proposed a bill that would ban or curb banks from charging commissions for many services.
Shares in the country's largest domestic-owned bank, Grupo Financiero Banorte, plunged 19% Thursday and Friday so far, Santander Mexico  Inbursa, and Gentera all dropped over 8%.
If the proposed banking initiative gets passed, it will be a hammer blow for Mexican lenders, for whom commissions and fees provide around a third of revenues. That, says Ricardo Monreal, the bill's sponsor, is precisely the problem: the banks in Mexico earn more in commissions than in almost any other Latin American country. And each year the amount grows. In 2017, the banks earned 8% more from commissions than in 2016…