But outside Italy, credit markets are sanguine, and no one says, "whatever it takes."
Italy's government bonds are sinking and their yields are spiking. There are plenty of reasons, including possible downgrades by Moody's and/or Standard and Poor's later this month. If it is a one-notch downgrade, Italy's credit rating will be one notch above junk. If it is a two-notch down-grade, as some are fearing, Italy's credit rating will be junk. That the Italian government remains stuck on its deficit-busting budget, which will almost certainly be rejected by the European Commission, is not helpful either. Today, the 10-year yield jumped nearly 20 basis points to 3.74%, the highest since February 2014. Note that the ECB's policy rate is still negative -0.4%: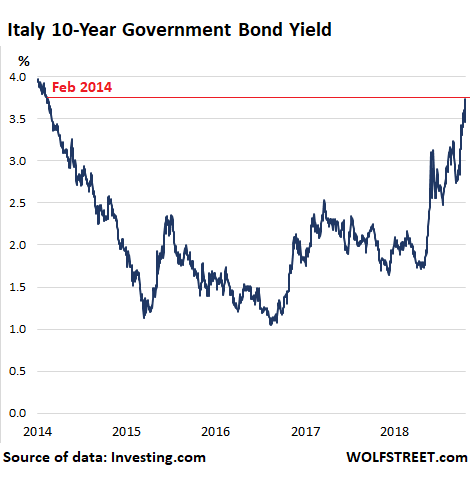 But the current crisis has shown little sign of infecting other large Euro Zone economies. Greek banks may be sinking in unison, their shares down well over 50% since August despite being given a clean bill of health just months earlier by the ECB, but Greece is no longer systemically important and its banks have been zombies for years.
Far more important are Germany, France and Spain — and their credit markets have resisted contagion. A good indicator of this is the spread between Spanish and Italian 10-year bonds, which climbed to 2.08 percentage points last week, its highest level since December 1997, before easing back to 1.88 percentage points this week.
Much to the dismay of Italy's struggling banks, the Italian government has also unveiled plans to tighten tax rules on banks' sales of bad loans in a bid to raise additional revenues. The proposed measures would further erode the banks' already flimsy capital buffers and hurt their already scarce cash reserves. And ominous signs are piling up that a run on large bank deposits in Italy may have already begun…