Turkish lira in free-fall, down 18% in two days.
On Friday, the Turkish Lira plunged 15% against the US dollar. Over the past two days, it has plunged 18%. Over the past four months — shown in the chart below — it has plunged 38%: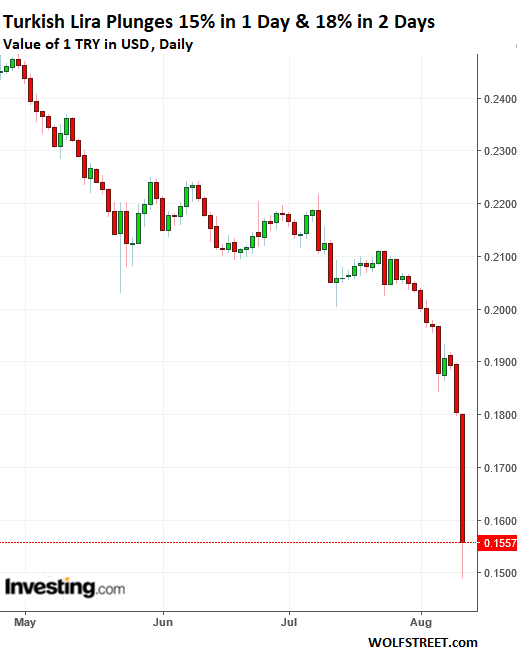 Now even the ECB is beginning to fret about the potential impact the plummeting Turkish Lira may have on Eurozone banks that are heavily exposed to Turkey's economy via large amounts in loans — much of it in euros — through banks they acquired in Turkey. Given the plunge in the lira, companies have trouble servicing their euro loans and are beginning to default. And loans in local currency are plunging in value along with the currency. This is how the currency crisis in Turkey, which is turning into a debt crisis, could set off contagion effects among banks in France, Spain and Italy — a risk we have been exposing for two years.
The ECB is concerned that Turkish borrowers might not be hedged against the lira's weakness and begin to default on foreign currency loans, which account for a staggering 40% of the Turkish banking sector's assets, the FT reported. Turkey leads all other major emerging markets on total foreign-currency-denominated debt (including public debt), which hit nearly 70% of GDP last year (up from 39% in 2009).
Banks in Spain, France and Italy have estimated exposure to Turkey's banking sector of around €135 billion. Spanish lenders alone reportedly are owed just over €80 billion by Turkish borrowers in a mix of local and foreign currencies. French and Italian banks are respectively due just under €40 billion and €18 billion…