The shale revolution has been a money-losing endeavour of epic proportions, but not for the big banks.
By Justin Mikulka, a freelance writer, audio and video producer living in Trumansburg, NY. Originally published at DeSmogBlog
The U.S. shale oil industry hailed as a "revolution" has burned through a quarter trillion dollars more than it has brought in over the last decade. It has been a money-losing endeavor of epic proportions.
In September 2016, the financial ratings service Moody's released a report on U.S. oil companies, many of which were hurting from the massive drop in oil prices. Moody's found that "the financial toll from the oil bust can only be described as catastrophic," particularly for small companies that took on huge debt to finance fracking shale formations when oil prices were high.
And even though shale companies still aren't turning a profit, Wall Street continues to lend the industry more money while touting these companies as good investments. Why would investors do that?
David Einhorn, star hedge fund investor and the founder of Greenlight Capital, has referred to the shale industry as "a joke."
"A business that burns cash and doesn't grow isn't worth anything," said Einhorn, who often goes against the grain in the financial world.
Aren't investors supposed to be focused on putting money toward profitable companies? While, in theory, yes, the reality is quite different for industries like shale oil and housing.
If the U.S. financial crisis of 2008 has revealed anything, it is that Wall Street isn't concerned with making a "shitty deal" when it means profits and bonuses for its traders and executives, despite their roles in the crash.
Wall Street makes money by facilitating deals much like a Vegas bookie makes money by taking bets. As the saying about Las Vegas goes: "The house always wins." What's true about casinos and gambling also holds true for Wall Street.
Wall Street caused the 2008 financial crisis, with some of its architects personally benefiting. However, while a few executives profited, the result was a drop in employment of 8.8 millionpeople, and according to Bloomberg News in 2010, "at one point last year [2009] the U.S. had lent, spent, or guaranteed as much as $12.8 trillion to rescue the economy."
JP Morgan (along with much of Wall Street) required large sums of money in the form of bailouts to survive the fallout from all of the bad loans made, which brought about the housing crisis. Is JP Morgan steering clear of making loans to the shale industry? No. Quite the opposite.
As shown in this chart of which banks are loaning money to shale company EOG Resources, while all of the big players in Wall Street are in on the action, JP Morgan has the biggest bet.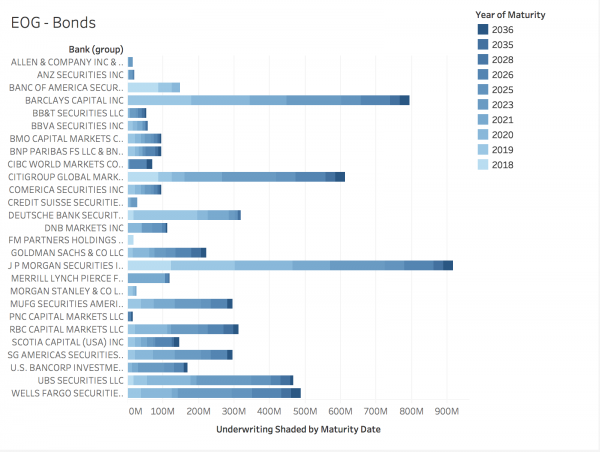 To understand why JP Morgan and the rest of these banks would loan money to shale companies that continue to lose it, it's important to understand the gambling concept of "the vigorish," or the vig. Merriam-Webster defines vigorish as "a charge taken (as by a bookie or a gambling house) on bets."
Wall Street makes money by taking a cut of other people's money. To a gambling house, it doesn't matter if everyone else is making money or losing it, as long as the house gets its cut (the vig) — or as it's known in the financial world — fees…