Tomorrow we have the State of the Union. Donald Trump will be gloating from ear to ear, but he'll be subdued – by his standards. Expect perhaps $1 or even $1.5 trillion in infrastructure spending to be announced, plus an immigration plan that gives Democrats much of what they want in exchange for some of the things Trump wants, as well as more on trade surpluses and deficits. The Democrats will attempt to turn it into a circus of sorts by bringing guests, and they will fail.
What America needs right now is dialogue, but it's only moving further away from it. Anything that's wrong with anything or anyone gets blamed on Trump. By half the population. That's nice and easy and convenient, but it doesn't lead anywhere.
This pic, even though it features a very dumb question, says a lot about where the country stands, and it's not standing pretty. Everybody's just busy confirming their own opinions 24/7, egged on by networks, newspapers and social media. It's like Moses split the nation.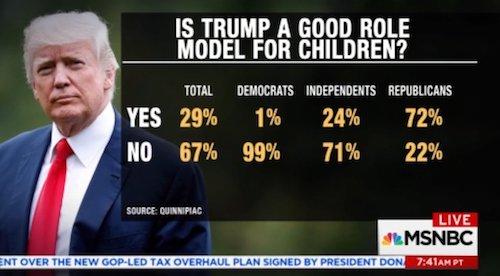 Watched the Trump speech in Davos last week. He made all the points you would expect him to. No scandals, nothing anyone could blame him for. In fact, it's true that the US economy is doing well, in Trump terms. They're not my terms, because they laud stock markets that quit being actual markets the moment the Fed and it global brethren killed off price discovery. But in Trump terms a record S&P 500 is all you need to know, alongside low unemployment numbers, even if the latter have everything to do with underpaid shit jobs robbed of all benefits American workers once fought so hard for.
In Trump's view, that's a good thing. In mine, it's a recipe for mayhem. I was watching CNN in the build-up to the speech, and Trump's denial of the NYT report that he had intended to fire Special Counsel Robert Mueller was completely ignored. Like he never said it. At CNN, anonymous sources have -way- more credibility than the president. That's a bit of a problem.
After the speech, all sorts of people were interviewed, and Joe Stiglitz of Nobel Memorial fame was one of them. He couldn't muster anything better than that Trump is a bigot, a misogynist and a racist. That's a terribly poor reaction to a speech like the one we saw and heard -which included not one word that would make any sane person think of these 'topics'-, certainly from an economist.
The 1-year-old Donald Trump presidency has brought us a lot of new things, but none more significant than that Trump has been under investigation since day 1 (and even before that). This sets a dangerous precedent that will resound through US politics for a very long time to come, not least of all because today, one year into the presidency, none of the investigations has resulted in anything tangible, while they continue without a finish line in sight.
The problem with that is that if you can do it with one president, someone will do it with the next one and the next one after that as well. Which does great damage not to Trump, but to the entire US political system, and the Office of the President of the United States in particular. If the office cannot command sufficient respect on Capitol Hill to limit any such investigation to an absolute minimum, in deference to what it represents, why would anyone else, domestically or abroad, show such respect?
Obviously, some people may claim that the situation is unique, simply because it concerns Trump, but that argument doesn't fly very far, because he was elected president, the culmination of a process that, given the powers endowed upon the office, should be close to sacred in the country. And if the very people (s)he must most closely work with, in the Senate and the House, are willing to subject a newly elected president to endless investigations without producing any results for a whole year, where and what are the limits?
It is at present of course all based on opaque accusations of the Trump campaign working with Russian intelligence to swing America's election process in favor of the president. But to date, four different committees on Capitol Hill, plus Special Counsel Robert Mueller, have made nothing public that proves any such 'collusion'. And Mueller's investigation is not only unlimited in time, it's also unlimited, in practical terms, in scope: whatever is deemed even possibly, perhaps, linked to collusion with Russia, goes.
The American empire was built, once it had acquired enough geopolitical, financial and military power, on invading countries and turning them into shithouses. It wasn't and original idea, America wasn't the first country to do it, but it's certainly been no. 1 in applying the 'tactic' over the past 100 years and change. Which makes it curious that when its own elected president calls some countries shithouses, that is treated like the worst thing anybody could have said anytime in history. And racist too, allegedly.
The entire country was built on racism, and it's still to his day almost exclusively run by white males. Much of the racism may be hidden by now, but it's still very much there. Go look at Baltimore, Chicago, Milwaukee, and the long list of black kids killed by white cops. It's not much use trying to claim that America is over its past. But Trump is singled out as a racist, though it's unclear what would make him worse than others.
And on Martin Luther King Day, all Democrats and many Republicans fell over each other once again claiming they knew exactly what Dr. King stood for in his days, and what he would have said if he were alive today (the same they thermselves say). They don't have a clue. The only way to honor MLK is to assume he would have been lightyears ahead of you. To assume he would have condemned all US foreign as well as domestic policy, and the likes of Bill Clinton, both George Bushes, Trump, and even Obama, wouldn't even have had a remote chance of becoming president…